Silver Rails Properties LLC
Winery & Tasting Room

Offered At $300,000
Winery Building And Tasting Room
Near Developed Major Highway US-63 Exit
Between Kirksville (10 minutes) and Macon (20 minutes)
Optional Purchase Of Up To 17 Acres Of Vineyards

100 East Benton Street, La Plata, Missouri 63549
Operating Winery and Tasting Room near a major highway exit serving both Kirksville (10 minutes) and Macon (20 minutes) as well as La Plata. Gas station, Dollar General store, liquor store, bank, ATM, restaurant, and top rated hotel located right next to property. Nearby full 18 hole golf course and Santa Fe Lake with fishing, boating, swimming and picnic areas. Amtrak Station located within view and steps from winery. Daily train service to Chicago, Kansas City and Los Angeles. Airport located 6 miles from winery with multiple daily flights to St. Louis, Missouri. Option to purchase up to 17 acres of developed nearby vineyard property.

The Silver Rails Winery is the large building with the red roof on the south side of the tracks pictured in the above photos. The winery has a tasting room open to the public. The vineyards extend from the railroad tacks near the center of the photo to the water tower in the distance. 17 acres have vineyard infrastructure (polls, wires, nets, some irrigation) with about 5 acres currently producing. Vineyards are not included with purchase of the winery, but portions may be purchased at an extra cost.
Large two level winery building with tasting room and plenty of storage.


Option To Purchase Vineyard At Additional Cost:

17 acres of vineyard infrastructure (polls, wires, netting, some irrigation)
5 acres currently producing
Event area in middle of vineyards (weddings, celebrations, etc.)
Nearby Silver Rails Event Center that may be rented for indoor events.

Property Location and Amenities:

10 Minute Drive From Kirksville, MO
20 Minute Drive From Macon, MO
Winery Off US Highway 63 (Lantern Street / MO Hwy D)

Nearby Brown Street (Hwy D) Business Properties:

Casey's General Store and Gas Station
D'Abolengo Mexican Cuisine
Bank of La Plata
Depot Inn and Suites Hotel
Dollar General
Spirits of La Plata

Nearby Owensby Street Business Properties:

La Plata Amtrak Station
Daily Passenger Trains to Chicago, Kansas City and Los Angeles

Kirksville Airport Just 6 Miles From Property

Multiple Daily Passenger Flights to St. Louis, MO by Cape Air

More Nearby Shopping, Restaurants And Other Retail:

Conveniently located in Kirksville
Walmart Supercenter, ALDI, Hy-Vee Supermarkets
Marshalls, PetSmart, Walgreens, CVS
Starbucks, McDonald's, Domino's Pizza, Sonic Drive-In, Chick-fil-A
Home Depot, Menards, Harbor Freight Tools
Verizon, T-Mobile
Lovegreen Ford, Kirksville Toyota
Downtown Cinema Eight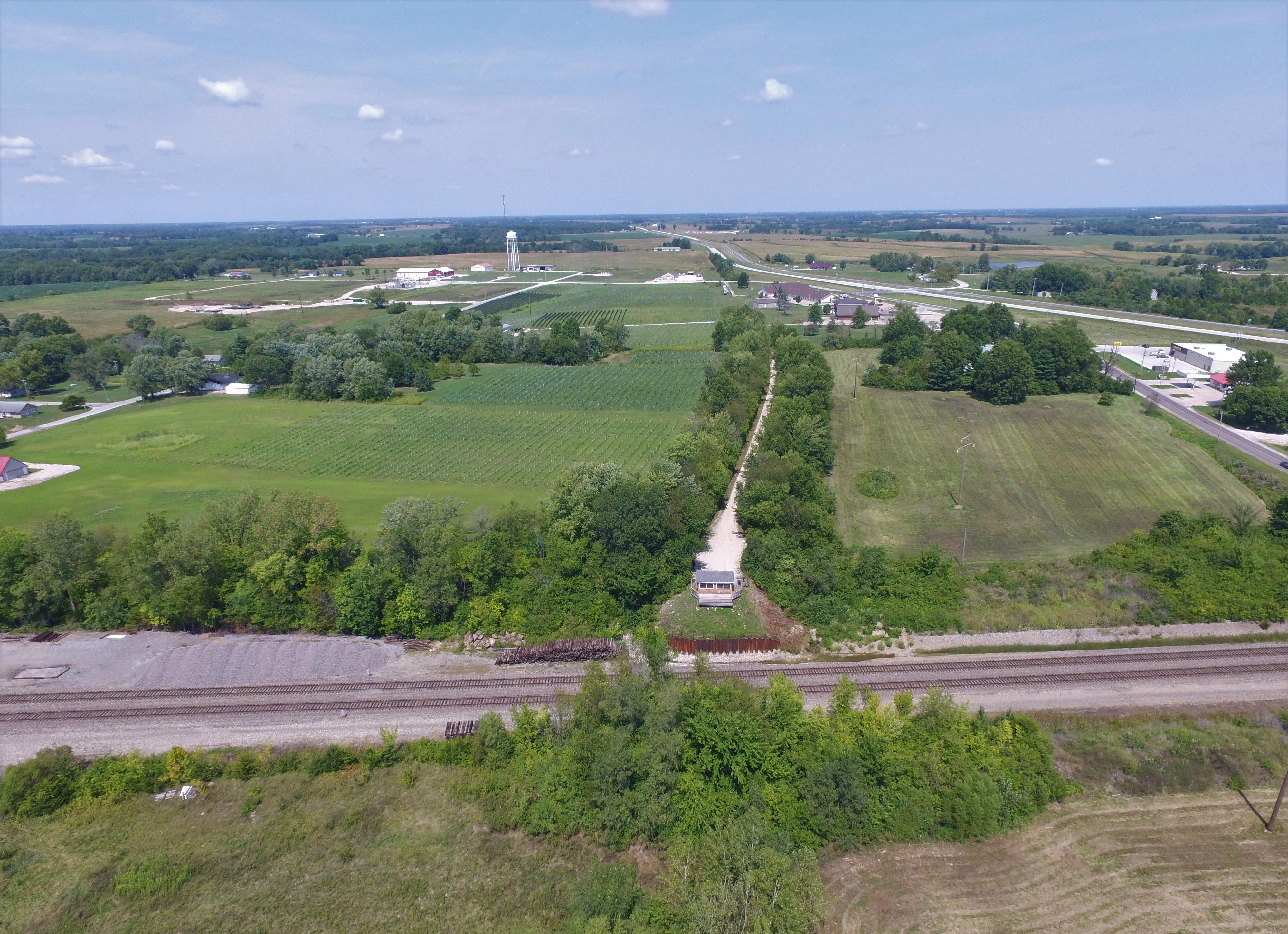 The 40 acres of Silver Rails Properties approximately extends from the railroad tracks at the bottom of the above photo to almost the water tower in the distance and includes almost all of the area from the left side to the right side of the photo.
The dirt road lined by trees in the middle of the photo is part of the property and can be removed to create one contiguous parcel stretching from Brown Street (Missouri Highway D) on the right to Owensby Street on the left. Amoco Road borders the property on the north and the BNSF Railway mainline between Chicago and Los Angeles borders the property on the south.
These are vineyards planted on 17 of the 40 acres near the winery in the heart of Silver Rails Country.
Contacts:
Barbara Cepinko, Silver Rails Properties LLC, 564-333-9064
Elizabeth Gregory, Century 21 Lifetime Realty, 660-665-5678
Mark Whitney, Century 21 Lifetime Realty, 660-665-5678